Knowing your face shape is one of the key components to having great brows and makeup game! Today, this goes out for all you oval face-shaped people. Chances are you weren't aware of this, but your face shape is considered the ideal shape.  You're basically Kim Kardashian at this point. Before you get excited, you must be positive you have an oval-shaped face. If you come to find out you don't after all, don't stress; TatBrow has got you covered too! Eyebrow Basics Real quick, we want to shout out all the eyebrows. Brows are extremely unique and beautiful, and...
---
A bi-weekly trip to your brow girl can add up quickly! But considering having a killer brow game is essential, how do you decide if it's worth it or not? Well, plucking and trimming your brows is much easier than you think. It's a learning process, but it's not impossible. It's really just a matter of knowing the proper technique, and which products would best serve your needs.  Here at TatBrow, we love the thought of everyone being confident and dependent on their brow skills. Yes, getting your brows done professionally can be a nice splurge; however, spending a chunk...
---
Eyebrows have always played a huge role in aesthetics. From middle school, when you were over-plucking them to mimic all the famous people of the era, today, when having full bushy brows is all that matters.  Besides looking fabulous, your eyebrows have a purpose. Have you ever wondered why we have eyebrows anyways? Well, the answer is simple—there are tons of different reasons, from function to thickness, and much more! We're here to break down why we have eyebrows and their functions.  History of Eyebrows  When you're born, your eyebrows are a mirrored pair. That's right! We know that that...
---
We've all been there—a little tweezer happy, and now you're stuck with uneven eyebrows for the next few weeks. Yes, over-plucking your brows can seem like a bit of a headache to deal with; we're here to tell you it's not as bad as you think! Of course, it's not ideal; but that's not to say you have to call out sick from the office for the next six weeks either.  Makeup has catapulted into its prime years. With tons of new products invented every day, you're bound to find one that can fix your minor eyebrow mishap. So, with...
---
• eyebrows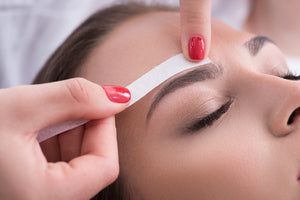 No matter what your preferred style of brow is, you probably do some type of brow grooming, (unless you're very dedicated to the natural look, which we totally respect). But since many of us either can't pull that off or prefer something a little more structured, keeping your brows neat and shaped can be painful, time-consuming, and often costly. If you pluck your brows at home, you know how much it can hurt. And you probably also know the feeling of pure, unadulterated rage when you finish plucking your brows to perfection indoors, step out into the sun, get into...