• eyebrows
Eyelash extensions are pretty much de rigueur for any beauty maven. While you may not get them yourself, or only entertain them on special occasions, almost everybody has at least heard of them. Eyelash extensions are synthetic fibers that can be attached to your existing lashes or lash line using adhesive. It makes your lashes look perfectly long, thick, and mascara-d from morning until night and every minute in between.  Eyebrow extensions, on the other hand, are much lesser-known—you may not have even known that it's a thing! Luckily, you have us to tell you all about it, and so...
---
• eyebrows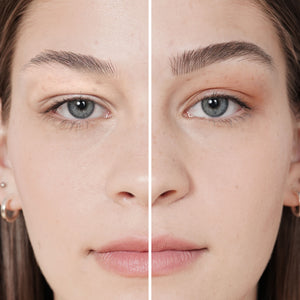 We all want perfect brows. If you have to be up early in the morning, when you look at all the steps and skills potentially required to get your brows perfect, it can seem pretty daunting—not to mention time-consuming! And when the alternative is catching a few extra zzz's or even other parts of your morning routine you might enjoy more, convincing yourself that perfect brows are worth the time might not be so easy, no matter how much better you feel like they make your face look. Enter eyebrow stencils. The easy, breezy way to shape your brows with...
---
• eyebrows
Are you dying to try the eyebrow slit trend, but you're unsure where to start? It's not as complicated as it may seem. We'll show you how to slit your eyebrows the perfect way, RN.  What Are Brow Slits? This brow craze involves a single or double vertical line cut into the eyebrow hair. Designs such as brow crisscrosses and diagonals are also known to accompany the style. Create these brow cuts using an eyebrow razor, scissors, or concealer. Though most brow slits are created solely for style, some people have an eyebrow slit naturally. Natural brow cuts are the...
---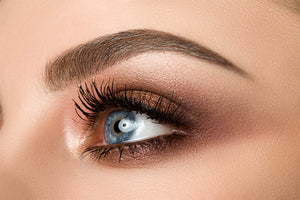 As brows continue to be a huge part of our makeup and beauty routines, there are more and more treatments and products available to change how they look. While once you were doomed to live with it if your brows were naturally sparse or if you went a little overboard with the tweezers, nowadays there's no end to the list of ways you can improve the appearance of your brows, no matter what you're unhappy with. Two increasingly popular options in the brow beauty world are eyebrow tinting and microblading. Unlike simple cosmetics, these two choices are permanent, or semi-permanent....
---
There are so many different ways to style your brows. More and more, brow trends are allowing us to express our creativity and personality through our brows, rather than just mostly just being one accepted look at any given time. Whether it's fun and fancy colored eyebrows or chic and edgy bleached eyebrows, there's no shortage of brow looks to try out lately! But one of the most classic brow looks with the most staying power are perfectly arched eyebrows. Think of old Hollywood actresses and their glamorous lives—so many of them had immaculately sculpted eyebrows with admirable high arches...